The old cereus returns (and so do I) - August 2011
It's been a long time since I updated these pages. Just too busy. This page started as a place to put pictures of our night-blooming cereus plants that didn't fit on the
webpage I created years ago
. That original cereus was gravely damaged in January 2007 by a series of hard freezes (it can get below freezing in Los Angeles).
The plant was thought to be dead, but eventually new sprouts emerged from the soil. Gradually, it returned to health, becoming a very prolific producer of flat, green leaves... but no flowers. A few weeks ago, about a dozen buds were spotted on the original plant as well as two others that were separated out from the original after it revived. All three participated in this series of blooms that spanned three nights. There are no buds remaining on the plant that I have been able to detect, so this is probably it for the season.
I'm not especially fond of this particular batch of photographs, but without further ado, here are some of the pictures.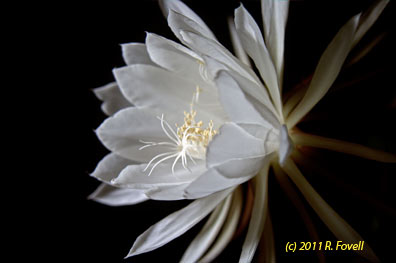 Most of these shots were fused from three different exposures using a program called Photomatix Pro. I don't have a lot of experience with HDR photography, so this is something of a learning experience.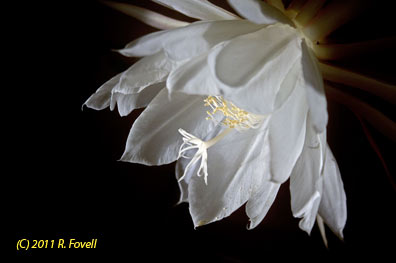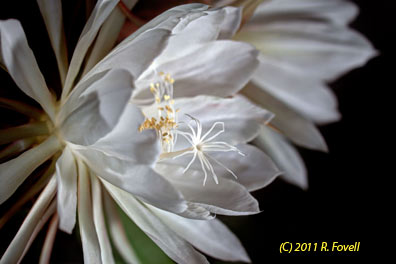 I've been trying to recreate
this backlit shot
for some time. I like the original very much, but it's an old 2 megapixel shot, which means it does not bear much enlargement.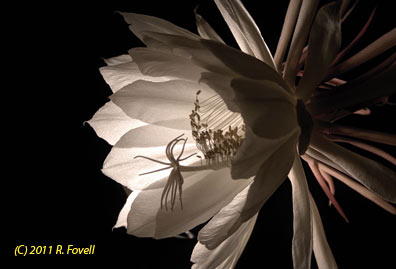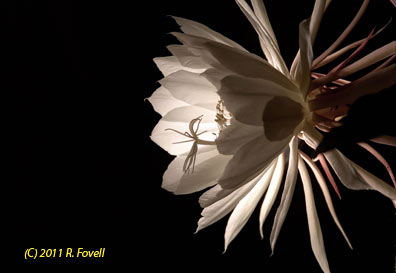 That's all for now.
Labels: cereus