Welcome to "Are you cereus?"
I've made this page as a companion to my
website
concerning photographs of the
Epiphyllum oxypetalum
, one of the cacti popularly known as "night blooming cereus". The site draws many visitors, particularly during (Northern Hemisphere) summer, and generates a fair amount of email. Some of my emailers describe (or show) their own plants or impart growing advice, while others pose questions I cannot answer. A weblog might provide a useful avenue for sharing comments, questions and pictures from other cereus owners, and those interested in this special plant.
I'll probably also include pictures that, for whatever reason, didn't make it to the cereus website. Here's one to start off the blog. It was taken on 27 September 2004, in my backyard like all the others.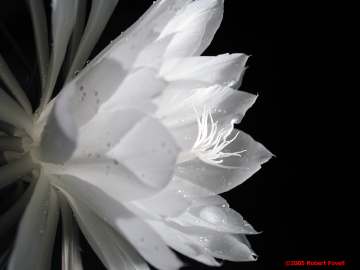 Thanks for visiting, and please feel free to leave a comment!