New cereus blooms (7-11-05)
At this writing, three of the four buds I recently wrote about have bloomed (the fourth will open this evening). I was greatly looking forward to these blooms so I could try out my new digital camera, an 8 MP Canon Digital Rebel XT. Two flowers opened on the 9th, but my pictures suffered owing to lack of familiarity with the new camera. I fared better with the solo bloom last night (the 11th). Two lessons learned: how to restrict the autofocus to a single point (important for extreme closeups), and the degree of sharpening needed. Compared to my Olympus 4040Z, the Canon pictures are consistently fuzzier out of the box, and need a relatively larger amount of sharpening in Photoshop.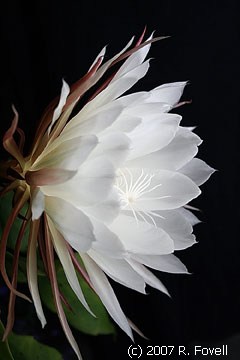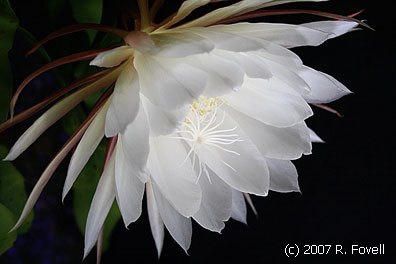 This is my first experience with RAW images, and I really like the additional control over the white balance this format affords. The Canon software includes a tool for selecting the white point, and the image's color shifts about this point. Most of the cereus flower is nearly pure white, but always comes out with a sickly yellow cast owing to the harsh tungsten/halogen lighting I use. I've had reasonable success in the past recovering a true white in Photoshop but I think the Canon RAW Image Task white point tool affords even more precise control. The two plots below show before and after shots.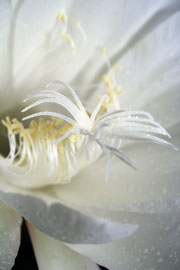 The Canon-supplied software has two serious flaws: it's as slow as molasses, and Canon ImageBrowser keeps on updating the modification dates of every file in a folder each time I open a folder -- whether I actively modify any of the files or not. Since I never alter originals, I expect their file dates to remain the same -- indicating when I took the shot. That must change.