Yosemite 7-26-05 to 7-29-05
We have an Ansel Adams photograph -- a winter shot of Yosemite Valley, including El Capitan, taken from the west -- hanging on our wall. In all our visits to Yosemite, we never managed to stop at the location where Adams may have taken that famous picture. It's an unsigned parking area along the Merced River, marked on the park map as "Valley View". (Adams probably set up a little east of this spot, on the same side of the Merced.) That's where the picture below was taken on July 27th.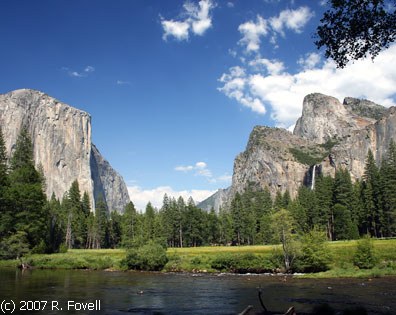 The waterfall visible on the right side is Bridalveil Falls; here is a closer view: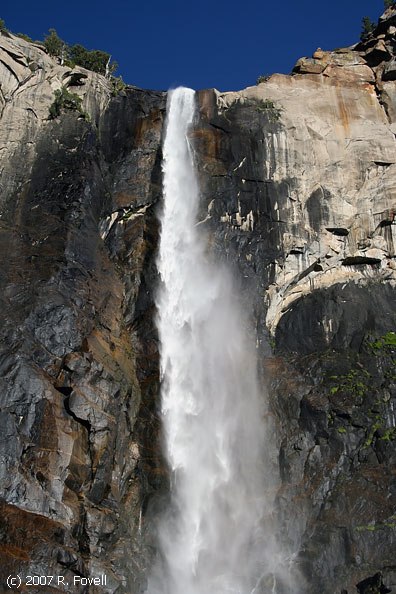 Two more novel things for us about this trip: this was the closest we had ever gotten to a bear and a deer. The young bear shown below was nosing around Tenaya Lake, in the northeast part of the park.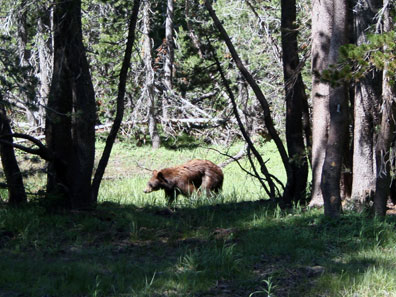 We've seen many deer, but none this nonchalant and unafraid. The deer shown below sauntered along a crowded stretch of riverside near Swinging Bridge, seemingly oblivious to the attention it attracted from numerous children... and more than one photographer.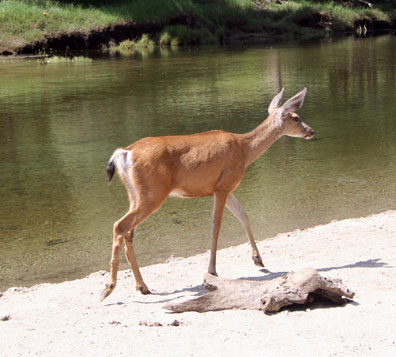 This flower was photographed at May Lake. I'm not sure what it is, but it grew in abundance around that lake.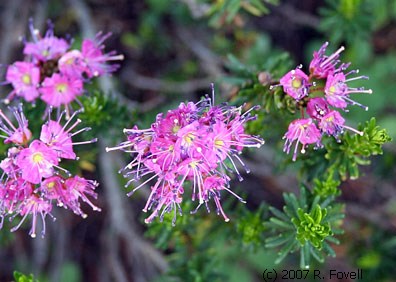 On the 28th, storm clouds brewed over Lembert Dome, in the northeast part of the park. Although not visible on the picture below, a solitary climber was ascending the dome's face, about halfway up at the time of the picture. Not the best day to go climbing...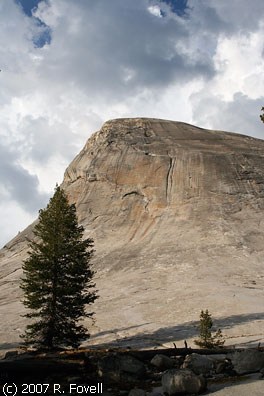 All of these pictures were taken with my recently acquired Canon Digital Rebel XT. I have mixed feelings about this camera. It feels good in my hands, can share my old Canon EOS film camera's lenses, and being an SLR is easier to use to compose pictures than my old Olympus 4040 and 2000 rangefinder digicams. However, too many of my pictures have come out improperly focused, an issue with the autofocus. It's fumbled some easy shots the Olympus cameras never would have missed. But, eight megapixels and the RAW format are nice... and the first Yosemite picture shown above will hopefully look great when enlarged and hung on the wall, next to the Ansel Adams.