Growth and decay
By
growth
, I'm referring to the new cereus, purchased last year to replace the old plant that died about a year ago now. After a rough start, the plant is growing quickly, producing the stalk seen in the photo below. The leaf seen at rear is disfigured, the result of a rotting disease that luckily appears to have been arrested. Getting the plant more natural light appears to have been the cure.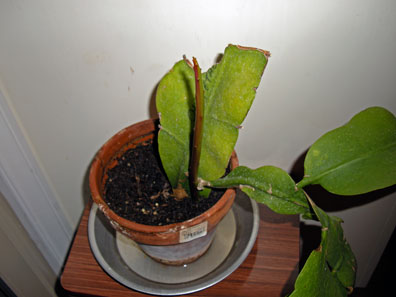 By
decay
, I'm referring to
Scientific American
which has in its March issue a
story on electronic markets
that contains a remarkable claim:
[T]he futures market for orange juice concentrate predicts Florida weather better than the National Weather Service.
This statement is offered without proof, without reference or citation, and without even defining what it means by "weather" or revealing what its metrics for success or skill are. I found several sloppy or needlessly contentious statements among the articles in that issue, which I bought and perused in an airport while awaiting a flight. I used to read
Scientific American
years ago. I don't know why I stopped reading it, but I know why I won't be resuming that old habit anytime soon.
And I'd still like to see the proof.
Labels: cereus, Scientific American, sloppy reporting